History, Philosophy and Ethics Corporate
DESIGN, PRODUCTION, SALE AND AFTER-SALES ASSISTANCE RELATIVE TO:
DEVICES FOR OPERATING THEATRES AND ENVIRONMENTS WITH HIGH LEVEL OF SANITIZABILITY.
DEVICES FOR LAPAROSCOPY
History
1959: Ermanno Lucini and Giuseppe Talamazzini formed L&T with head office in the centre of Milan.

1985: The Company moved to the new offices in Paderno Dugano (MI).

Operating Paradigm: Producing customised products for hospitals.

1991: Ermanno Lucini took over L&T completely with the intention of continuing the activity with his sons, Flavio and Alessandro.

1991: L&T was awarded by the Chamber of Commerce, Industry, handicraft and Agriculture of Milan with a Gold Medal for its "commendable activity" carried out in the first thirty years of life. The manufacturing of specific products to furnish operating rooms and sterilization centres (range CRL, COS, SD, ARD)

Operating Paradigm: "The first new product to make is the Company".

1998: The company brings its Quality Management System to the European standards in accordance with: UNI EN ISO 9001 and UNI CEI EN 46001 (which later became UNI CEI EN ISO 13485 .

2000: the device LaparoTenser® was presented (surgical device for Isobaric laparoscopy), a patented device that allowed the Company to look out onto the world of Minimally Invasive Surgery.

2002: The "Lucini Surgical Concept" was founded, the natural evolution of L&T with the same story. The establishment of the new company leads to a generational change. The company is entrusted to the dirction of Flavio Lucini and Alessandro Lucini.

Operating Paradigm: "We design and produce Devices and Technologies made to provide the Maximum Value to Surgical Procedures".

2007: 14th November (Washington D.C) . The " American Association of Gynecologic Laparoscopists" awards the Lucini Surgical Concept:

"Daniel F. Kott Award for the Best New Instrumentation"

confirming the high technological target achieved and recognised within the market for Medical Devices all over the world. Expansion in the American market began.



2009: The new 3.500 m2 offices in Lainate in the outskirts of Milan were inaugurated; more space was given to the "Research and Development" department, to the mass production ranges, to the large Show-Room and to the "Virtual Imaging" room where the designed devices are presented to the Customers virtually before their material realization.


Land purchased (by Alessandro and Flavio Lucini) 31.07.2008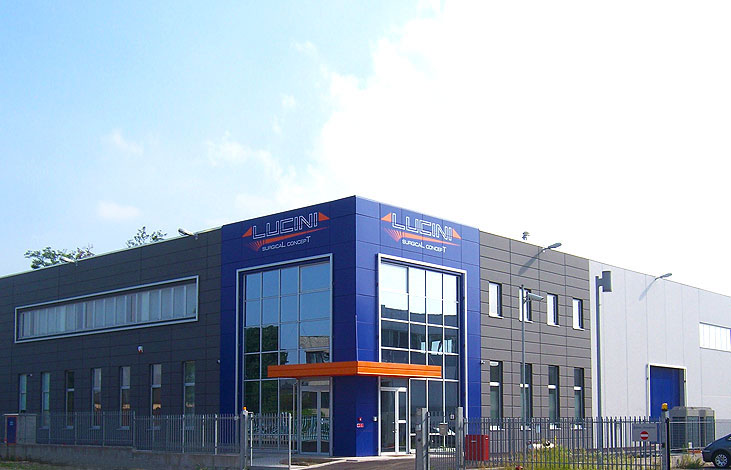 Operating Unit Completed 01.05.2009

2012: Completion of the generational change. The totality of the shares is purchased by Alessandro Lucini and Flavio Lucini.

2013: Application of SA.F.E. Technology to the new Devices designed and produced. SA.F.E. Technology: (Acronym of Easy and Effective Sanitization) Technology inspired by scientific research (Evaluation of the Sanitization of Equipment for transport and for the storage of Medical Devices - Materials, Surface Treatments and Basic geometry." - University of Milan The technology has been patented and has a Registered Trademark.

2014: New ranges of products are launched: using the commercial methodology of offers through "Guide to Appropriate Choices". A technical and commercial tool for distribution, the effectiveness of which is based on the objectification of the Intrinsic Value of the Devices Offered. Each buyer has the objective possibility of identifying the intended use of each new device and of weighing its actual intrinsic value,